BR. MAURO JÖHRI General Minister
GENERAL DEFINITORS
Br. Stefan Kozuh Vicar General
Br. Mark Schenk I Councillor
Br. Pio Murat II Councillor
Br. Sergio Dal Moro III Councillor
Br. Raffaele Della Torre IV Councillor
Br. Michael Fernandes V Councillor
Br. Hugo Mejia Morales VI Councillor
Br. Jean-Bertin Nadonye Ndongo VII Councillor
Br. Victorius Dwiardy VIII Councillor  
84th General Chapter of the Order
General Minister and Definitors of the Capuchin Order

From left to right: Michael Fernandes (Province of Maharahstra), Pio Murat (Province of France), Jean-Bertin Nadone (General Vice-Province of Congo), Mark Schenk (Province of Mid-America), Mauro Johri (Swiss Province), Stefan Kozuh (Province of Slovenia), Cesar Acuin (Province of the Philippines), Raffaele Della Torre (Province of Lombardia), Sergio Marcello Dal Moro (Province of Rio Grande del Sud), Hugo Martin Mejia Morale (Province of Peru).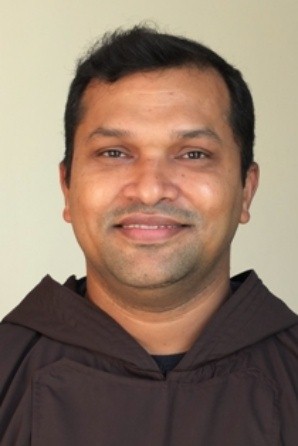 Br. Clayton Fernandes (Prov. of Goa), Secretary-General,
Br. Damian Philip Pereira (Province of Tamil Nadu, India), general vice-secretary
Br. Ervian Araújo de Souza (Province of Bahia and Sergipe, Brazil), responsible for the Current Archives and the Registry.
The presence and work of 5 language secretaries is also invaluable:
Br. Jean-Marcel Rossini – for French
Br. Charles Sammons – for English
Br. Umberto Losacco – for Italian
Br. Marek Przeczewski – for Polish Br. Francisco Lopes De Sousa Neto – for Portuguese